Are you looking for Group Guitar for Adults? Brighton Music Academy is offering Adult Guitarists the opportunity to learn guitar in a fun group environment with our Rock, Blues and Brews Adult Guitar Jam Class.
What is Rock, Blues and Brews?
Brighton Music Academy is offering adult guitar students a chance to get out of the house and learn to jam with other guitar players in our "Rock, Blues and Brews" evening class.

Participants will learn the basics of reading chord progressions that are common to many popular songs. Beginner through early-intermediate guitarists will get the most from this class.

Each week we will learn chords and changes to jam to. Course materials will be provided to make it easy for everyone to follow along. Materials will include variations of each exercise to ensure each guitar player can jam along regardless of their prior experience.

Beer will be provided on the first night! Each week thereafter, you will either bring your own or we can rotate. Of course, we encourage responsible drinking.
This is an 8-week class starting Tuesday, May 3rd. Each class will go from 8:30pm – 10:00pm. Course Fee is $200.00. Maximum 6 Guitar Players.

To enroll, just click this link: Rock Blues Brews Enrollment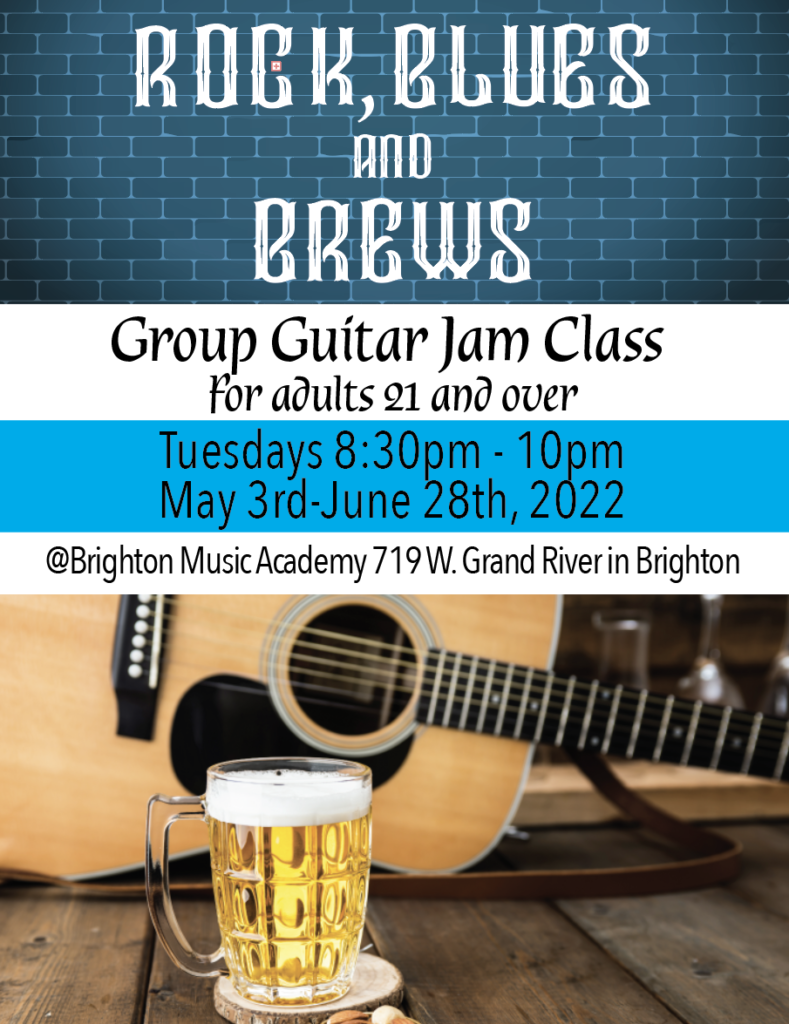 This is an 8-week class starting Tuesday, May 3rd. Each class will go from 8:30pm – 10:00pm. Course Fee is $200.00. Maximum 6 Guitar Players.

To enroll, just click this link: Rock Blues Brews Enrollment