Learn guitar. It's something you've always wanted to do.
Virtually everyone I know has expressed to me at one time or another that they have a desire to or have once desired to play guitar. Many will not only express their interest in and appreciation for guitar playing but do so in a way that brings about a level of joy and determination that I rarely see in that person otherwise. It's almost as if I can see their imagination working as a gleam enters their eye and thoughts of finally feeling the freedom to express themselves through music come to them.
We all have many interests, and clearly, we have to pick and choose our endeavors and leave others behind. We simply don't have the time to be everything we want to be. Many students of guitar these days also practice art, dance, sports – you name it!
Yes, you do!
I would like to suggest that guitar playing can be accessible to anyone, as the guitar is a small, portable item that needs little space in your living areas. The journey of learning to play the guitar can seem daunting, and there are many levels of guitar playing, as there are many levels of anything. Learning the fundamentals will take a bit of time, but with small, daily investments, you'll soon see your abilities improve.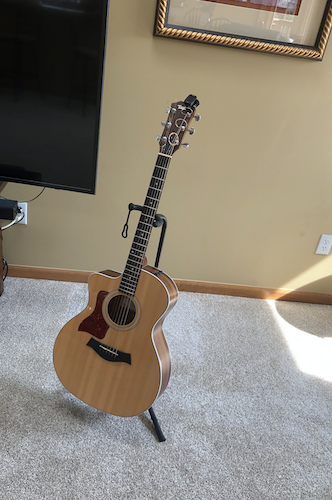 Time is always a perceived issue and an excuse for not proceeding with learning guitar, but you can make use of small amounts of time – five minutes here or ten minutes there – if the guitar sits on a guitar stand in your living room or office. Even five minutes of a certain guitar exercise can be immensely productive! Anything worthwhile takes time to build, but there can be great joy in the process of learning. Overcoming challenges is very rewarding.
Make it happen
Giving yourself the ability to express yourself through music is life changing. Making beautiful harmonies or playing an awesome rhythm is something that will make you happy, and others will want to hear you as well. All you have to do is wrestle a little time away from a few things that aren't bringing you the same satisfaction. Please forgive me, but I believe most of us, including me, waste time on things we don't truly enjoy. Be someone who puts 100% of their time towards meaningful, purposeful activities that appeal strongly to them.
Take lessons
Taking guitar lessons can greatly reduce certain poor habits that many fall into when attempting to learn guitar without guidance. In the beginning, it's most useful to gain the insights of a seasoned player and teacher of guitar.
You can make the choice today. The world is waiting to hear you play!